A domain can easily be transferred from one TransIP account to another via the so-called 'TransIP Handover'. You can transfer a domain from one TransIP account to another account using the following steps:
---
Initiating the transfer
Step 1
Log in to your control panel, navigate to the 'Domain & Hosting' tab and click the name of your domain on the left (or select several).
---
Step 2
In the top right, click on 'Manage', followed by 'Handover'.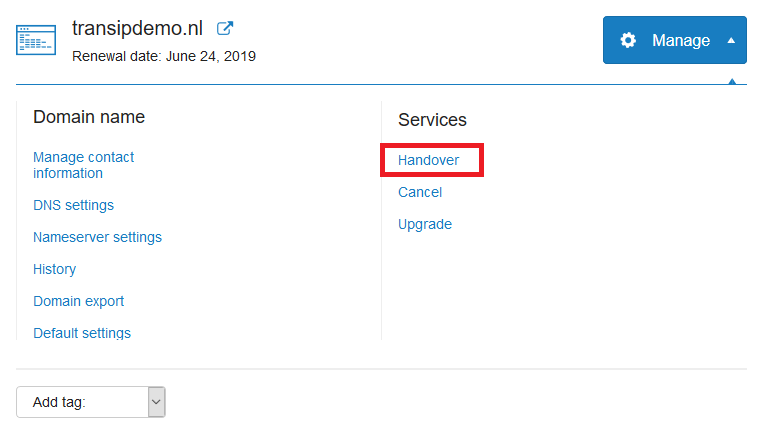 ---
Step 3
Enter the TransIP account-name you wish to transfer the domain to and select 'Handover'.

---
Accepting the transfer
It is important that the handover of the domain is now accepted by the receiving account. Accepting the handover can be done as follows:
Step 1
Log in to control panel of the receiving account and click the account-name of the account on the top right-side of the interface followed by 'My Account'.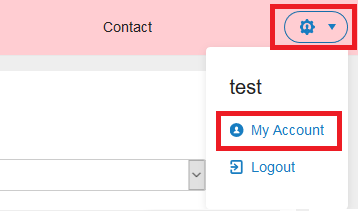 ---
Step 2
Select the 'Transfers' tab.
---
Step 3
Select the H-number which lists the VPS that is being transferred.

---
Step 4
Click on 'Accept'. The transfer is now complete!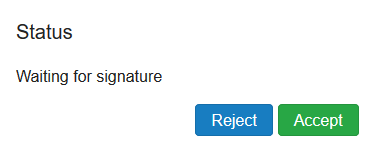 An internal handover will transfer all current services that are related to the domain such as webhosting or forwarding service. The nameservers, DNS settings and WHOIS-settings for the domain will also be transferred and can be edited after the domain has been pushed.
For safety reasons a domain can only be transferred 17 days after a registration or transfer via the TransIP Internal Push.
It is also possible to transfer a domain from another TransIP account to your own account. This can be done using the regular 'transfer' option. For more information, please consult the following page: How do I transfer my domain(s) to TransIP?
---
Should you have any questions left regarding this article, do not hesitate to contact our support department. You can reach them via the 'Contact Us' button at the bottom of this page.
If you want to discuss this article with other users, please leave a message under 'Comments'.