When you are using a TransIP VPS you can always use our mail service free of charge. With this service you will always have the possibility to use our mail services after a one-time configuration on your server. When using our mailservice you will no longer have to worry about mails being delivered in the spamfolder due to incorrect reverse DNS or SPF-records, or because a blacklist is blocking mails from your IP-address.
To successfully set this up you will need to perform some configuration changes on your VPS to make sure your VPS and domains are properly authenticated for the use of our platform.
Consult this article to check if your use case matches the intended use of the VPS mailservice.
Required information for configuring the VPS mail service
Step 1
Log in to your control panel, navigate to the 'BladeVPS'  tab and click the name of your VPS.
---
Step 2
Scroll down and click the cogwheel behind 'VPS Mailservice'.

---
Step 3
Click on 'Username & Password'.

---
Step 4
Note down the username and password. You'll need this later in the configuration (in your mail software). Next, click your browser's back button to return to the previous page.

---
Step 5
Click on 'Manage domain names'.

---
Step 6
Select your domain name and click 'Continue'. Is your domain name not part of the account which also contains your VPSt? If so, proceed to step 8.

---
Step 7
Your shown an overview of the required DNS records. Click on the 'Add now' button to automatically add these records to your domain (only works if the domain is registered with TransIP and using our nameservers). You have now finished this part of configuring your VPS mail serice and should skip steps 8 and 9.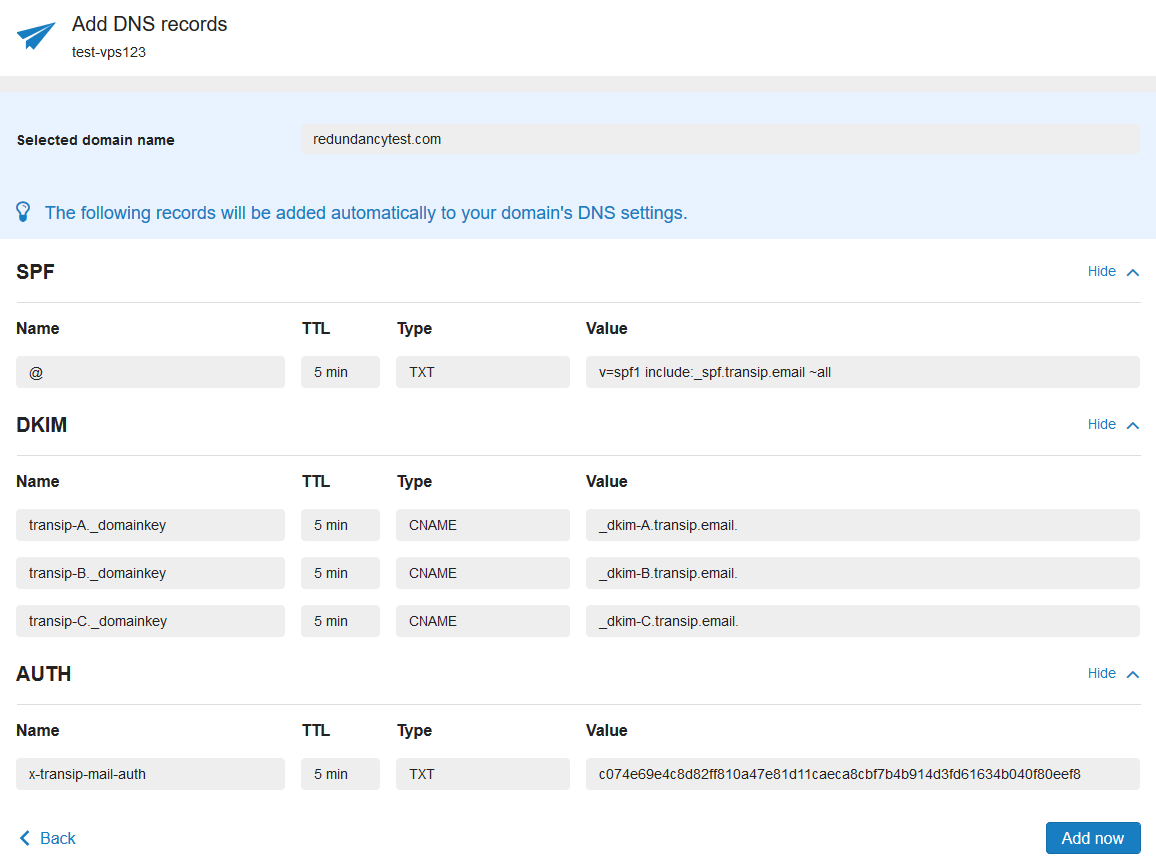 ---
Are you using a domain which is not in the TransIP account your VPS is in? Select 'My desired domain name is not listed' and click on 'Proceed'.

---
Step 9
Your shown an overview of the DNS records which are required for using the mail service. Add these manually to your domain. If required, you'll find instructions on how to manually configure DNS records in a TransIP account in this article.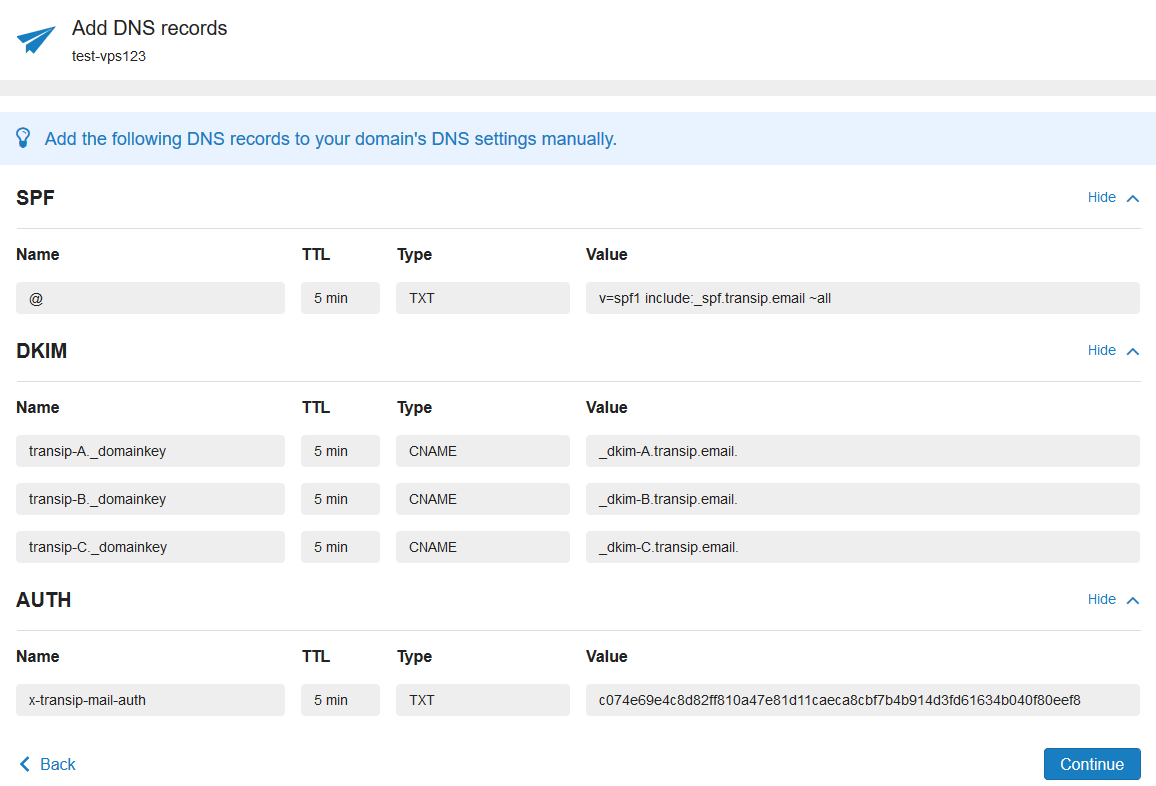 You now finished this part of configuring your VPS mail service.
---
DirectAdmin: DirectAdmin supports underscores in CNAME records. Unable to create one? Check directadmin.conf to see if the option allow_dns_underscore=1 is indeed set to 1 and not on 0.

Plesk: At the time of writing, a bug in Plesk prevents the normal creation of a CNAME record with an underscore in its name. You can work around this problem in the shell using: plesk bin dns --add yourdomain.com -cname transip-A._domainkey -canonical _dkim-A.transip.email (don't forget to also add the B & C record).
---
Configuring your VPS for using the mail service
How you configure your mail software (MTA, or mail transfer agent) depends on the specific MTA you are using. The most commonly MTA's are Postfix and Exim, which are also used by most web control panel such as DirectAdmin, Plesk and cPanel.
Within your control panel you can always start the configuration wizard which will take you through all steps necessary to configure the mail service on your BladeVPS. This configuration wizard can be found via 'BladeVPS' > select your VPS > 'VPS mail service' > cogwheel > 'Configure VPS' (see the screenshot in step 3 above).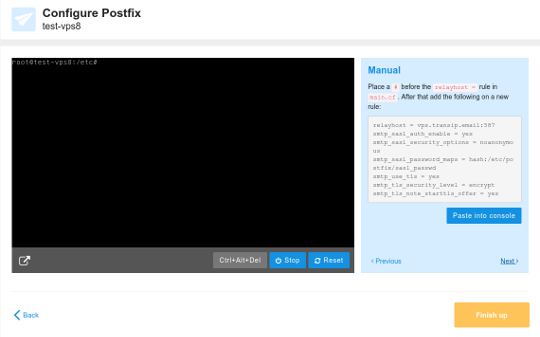 We currently have a guide for the following MTA's:
---
Is your MTA not listed above?
Then you could consult the (online) documentation of this particular mail transfer agent. Look for the section related to external relay-services and make sure 'vps.transip.email' is set as the relayserver (via port 587). The second thing that always needs to be done is making sure your username and password are included when trying to connect to our mail service.
---
Should you have any questions left regarding this article, do not hesitate to contact our support department. You can reach them via the 'Contact Us' button at the bottom of this page.
If you want to discuss this article with other users, please leave a message under 'Comments'.