The IP in IP address stands for Internet Protocol. It is a technique used to computers in a network to communicate with each other. The most common application is the internet.
---
How do IP addresses work?
In an IP network, each computer is assigned an unique code (compare it with a phone number). This code, that consists of four numbers that are separated by a point, is the IP address. Usually an IP address is associated with a company. In this way it's easy to figure out where alterations under an IP address come from. For consumers the IP address often corresponds with their internet provider.
---
IPv4 and IPv6
There are two types of IP-addresses, IPv4 addresses and IPv6 adresses. Since the supply of IPv4 addresses is getting scarce a new type of IP-address was created: the IPv6 adress. IPv6 addresses are the successors of the IPv4 addresses to make sure there are enough IP-addresses availbable for use. An IPv6 addres is different than an IPv4 adres since in the way that it has 8 groups of 4 characters. When you order a VPS with TransIP, by default you will receive a full IPv6 range.
---
IP-adresses for your VPS
When you order a VPS, you will by default receive 1 IPv4 address. If you need more IPv4 addresses you can order more IPv4 addresses during your order up to a maximum of 10 IPv4 adresses. You can also order more IPv4 addresses in your control panel after you have placed your order by following the steps below.
Step 1
Log in to your control panel, navigate to the 'BladeVPS' tab and click the name of your VPS on the left.
---
Step 2
In the top right, click on 'Manage', followed by 'Order addons'.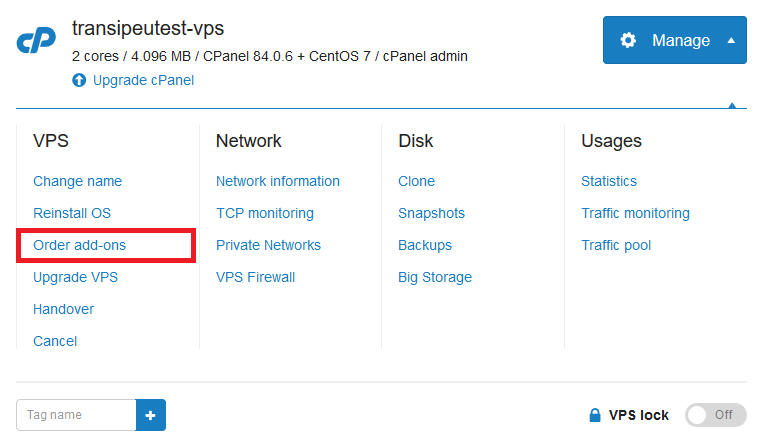 ---
Step 3
Adjust the number of IP addresses as desired and click 'Order'.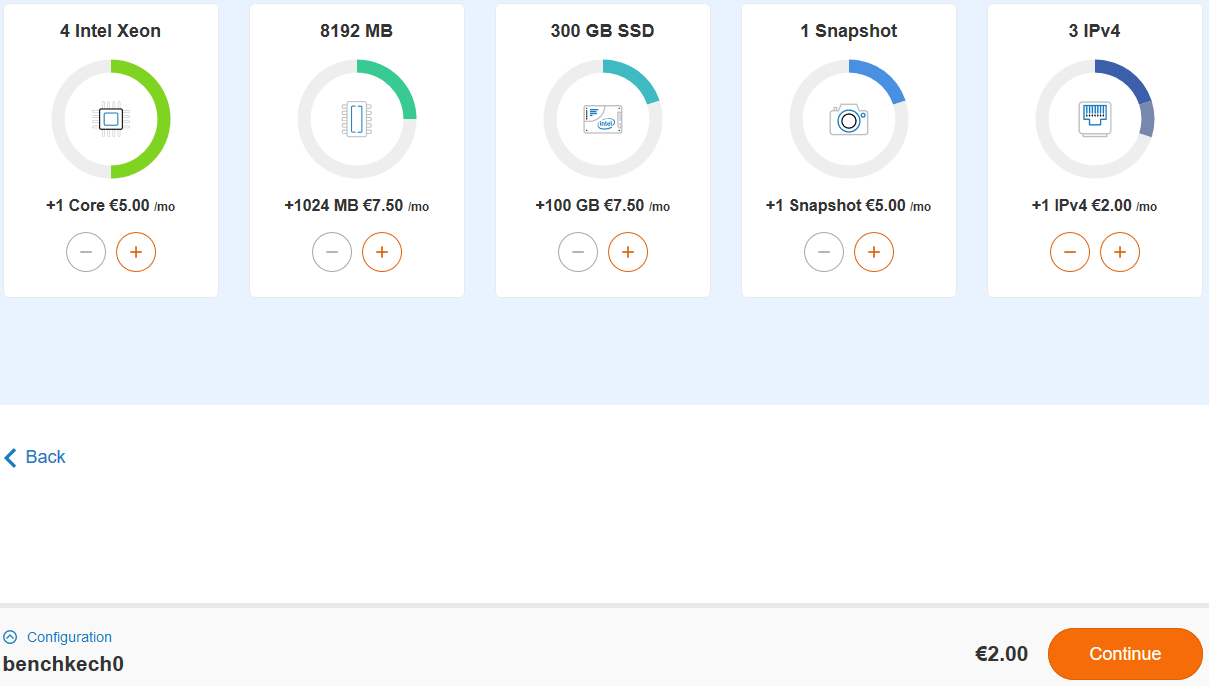 ---
Staep 4
Confirm the order by clicking on 'Order'.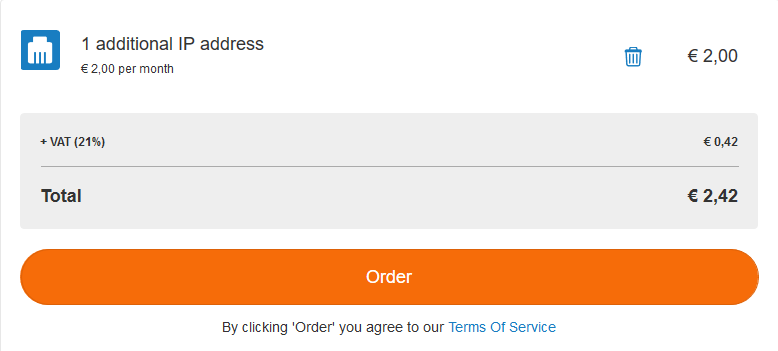 ---
Should you have any questions left regarding this article, do not hesitate to contact our support department. You can reach them via the 'Contact Us' button at the bottom of this page.
If you want to discuss this article with other users, please leave a message under 'Comments'.