In certain cases it's possible to use your own Microsoft licenses on our platform by incorperating these in the 'License Mobility through software assurance' program.
Use our 'Microsoft Essentials License Mobility-wizard' to check if you can use your own licenses on our platform.
While going over the steps in this article, you'll be asked for certain information such as an agreement number and the amoount of licenses. You can find this information in your license agreement.
 
In this document you'll find a detailed explanation about the verification process of Microsoft's License Mobility through software assurance
 
License Mobility through Software Assurance is not applicable on OEM- and Retail licenses.
 
After completing the License Mobility through Software Assurance process, the corresponding software needs to be reinstalled on your VPS.
 
Software Assurance must ramin active on your own licenses used in Microsoft's License Mobility through software assurance.
 
Remote Desktop Client Access Licenses require no additional steps and you may immediately start using them on your VPS.
Step 1
Open the VPS page in your control panel and click on the name of the corresponding VPS.
---
Step 2
Click the cogwheel behind 'Microsoft Essentials'.

---
Step 3
Scroll down and click on  'Manage Licenses'.

---
Step 4
Start the wizard to start the verification process by clicking 'Request License Mobility' at the bottom of the page. After finishing the wizard, Microsoft checks if your license can be used with us. In your control panel you'll be able to review the status of the verification process (see Step 11).

---
Step 5
Provide the name of your company (or yourself) on which the license is registered.
---
Step 6
Microsoft licenses come in all kinds of shapes and sizes. Select the type of agreement applicable to your license and click on 'Next'.

---
Step 7
Provide the Agreement Number, the Enrollment Number (Enrollment number(s) may not be visible depending on your selection in Step 6), and the Software Assurance-vervaldatum and click on 'Next'.

---
Step 8
Select the products to which your Volume Licensing Enterprise-agreement applies. It doesn't matter what year/version your license is from. For both Exchange Server 2016 and 2012 for example, you only select Standard, Enterprise, or Exchange Server 2007 Standard for Small Business.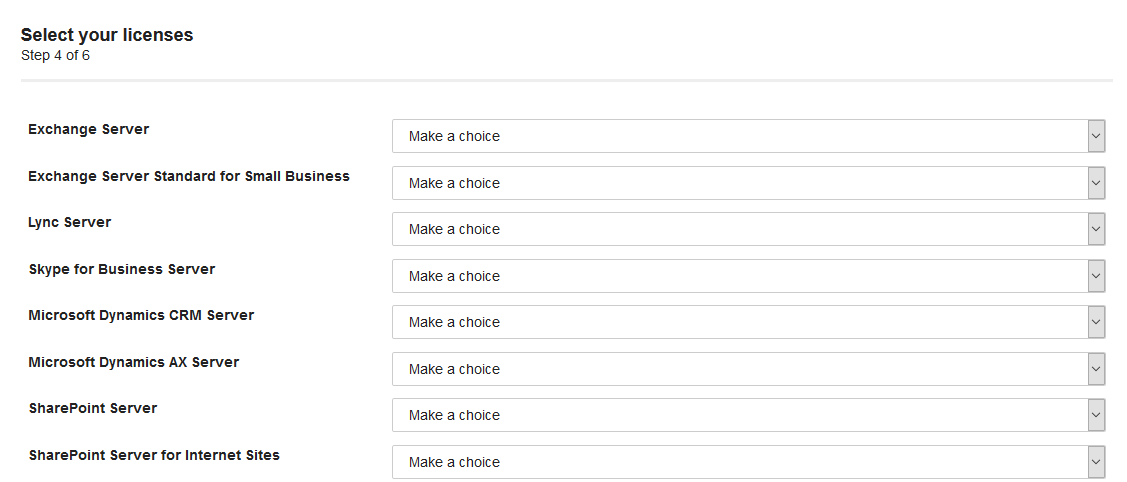 ---
Step 9
Provide the amount of licenses for the selected product(s) and klik on 'Next'.

---
Step 10
A .docx-file is generated which is sent to Microsoft for the verification of your rquest. Check if the provided information in the file are correct and click on 'Start verification' to initiate the verification process.

---
If no problems are found, you'll see the confirmation below:

Click on 'To License Mobility overview' to return to the overview 'Manage licenses'. Compared to Step 4 you'll notice this overview has been expanded and your request process has been started.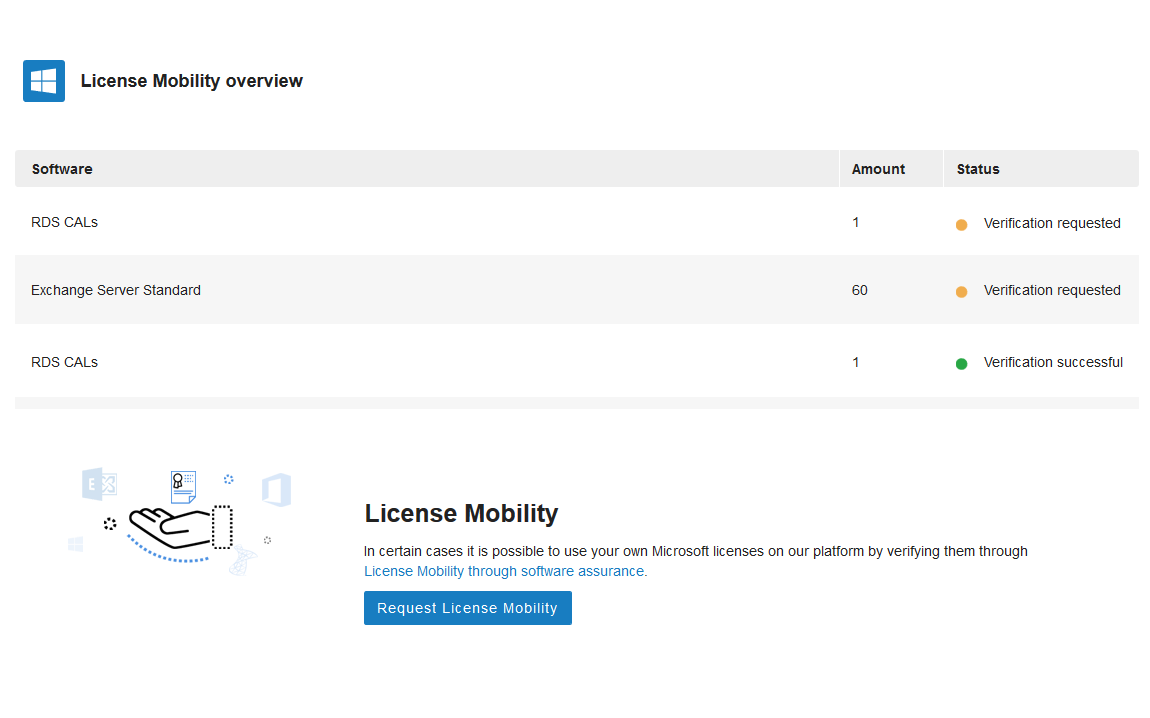 ---
Should you have any questions left regarding this article, do not hesitate to contact our support department. You can reach them via the 'Contact Us' button at the bottom of this page.
If you want to discuss this article with other users, please leave a message under 'Comments'.