A domain name is your address on the World Wide Web. It can be used for a multitude of purposes, such as creating websites, configuring email addresses and setting up web services.
This article shows you how to register your very own domain name at TransIP. If you wish to transfer your domain name to TransIP, you can use the steps in the article 'Transferring your domain name to TransIP'.
---
Choosing your domain name
Your domain name is much like an online business card, so it's important to think about the domain name you want to use. Try to keep your domain name short and simple, as your visitors will need to be able to remember what to type in the address bar. For instance, carparts.com is much easier to remember than johnsmithcarpartsandrepairs.com.
Keep in mind that nowadays it's not easy to find domain names that are both short and available. The internet has been around for quite some time, so most obvious domain names have already been registered.
You can use our domain checker to see if a domain name is available. Enter your domain name and hit the magnifying glass to check its current status.

In order to check multiple domain names at once, first click on 'Bulk +'. Hit the Enter button after entering a domain name to insert more domain names in the domain checker.
If your desired domain is already registered by someone else, a similar domain name may still be available. There are dozens of domain extensions to choose from at TransIP, so have a look at our overview of domain extensions for more inspiration. 
---

If a domain name is available, the 'Choose' button will appear. Click on 'Choose', followed by 'Continue' to start ordering your domain name.

If a domain name is no longer available, the 'Transfer' button will appear. This means the domain name has already been registered by another person or company. In that case we recommend coming up with an alternative domain name to register.
---
With or without web hosting?
Once you've chosen an available domain name, you will have the option to add a web hosting package to your domain registration. A web hosting package enables you to create a website and email addresses for your domain. You have the following options:
Click 'Choose' below the left option 'Webhosting Pro' to add a web hosting Pro package to your domain registration.
Click 'Choose' below the right option 'Webhosting Pro + Patchman' to add a web hosting Pro package ánd Patchman.
Click 'Show all hosting options' to look at the other web hosting packages.
Click 'To cart without web hosting' to register the domain name without web hosting.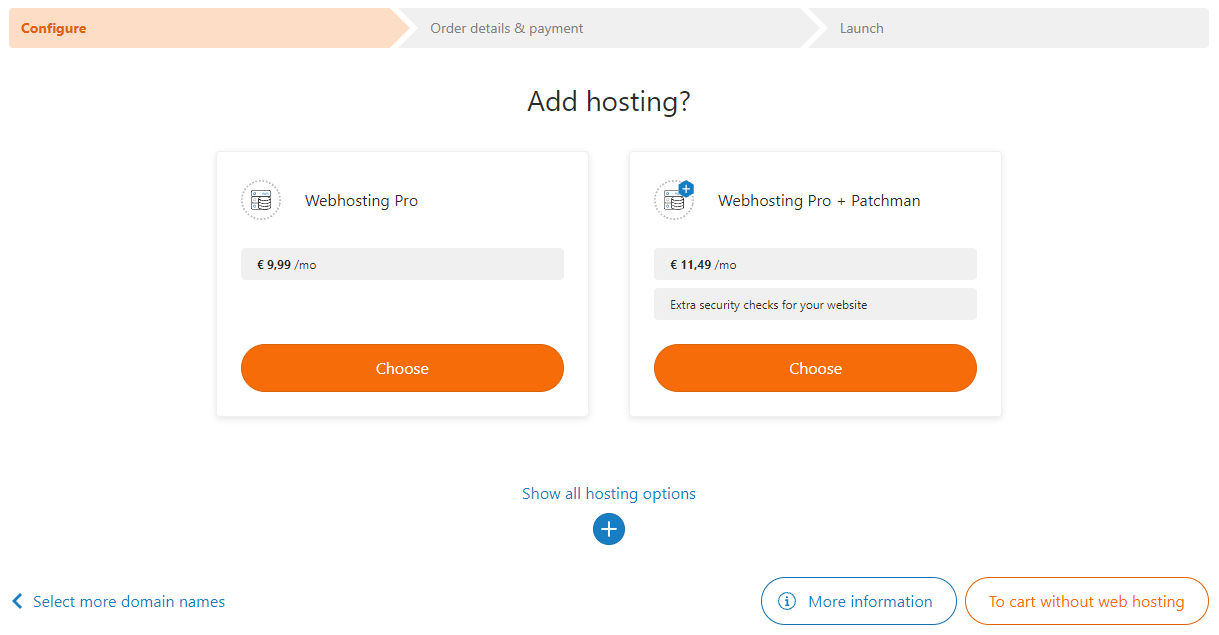 ---
Order your domain name
Now it's time to finalize your order by entering your payment information.
Click on 'Add hosting' if you didn't choose a web hosting package and still want to add web hosting to your domain registration.
Click on 'Edit hosting' if you wish to change a web hosting package that you've chosen.
Click on the trash bin icon to remove items from your cart.
The current payment method is shown behind 'Payment method'. Click on the pencil icon to change the payment method for this order.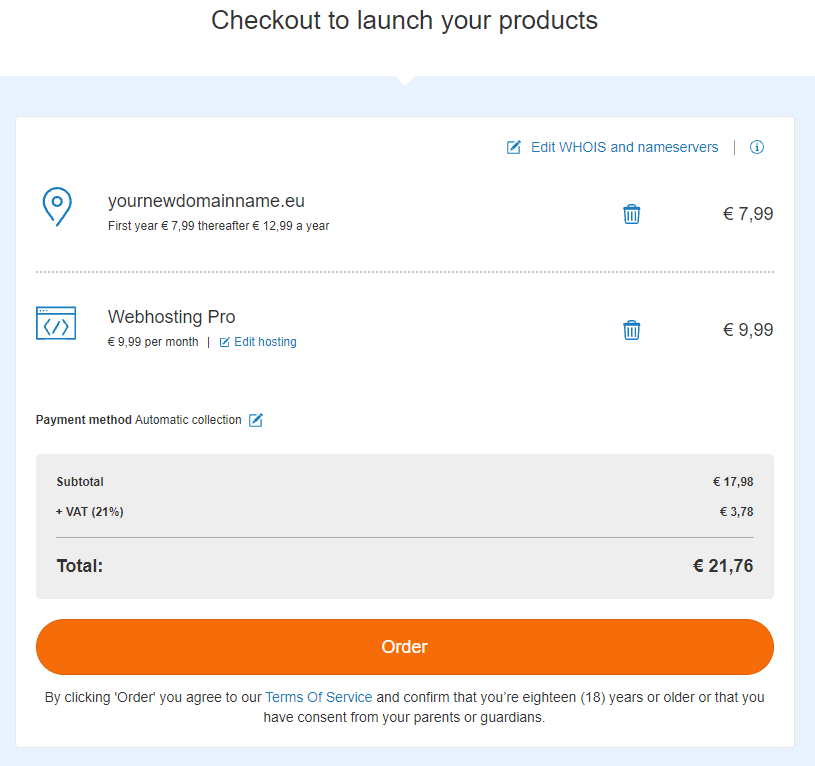 As you can see in the image above, you can also choose to edit your WHOIS information and nameservers.
Edit the WHOIS information if you want to change the registrant, administrative and technical contact information during the domain registration.
Your domain registrations will use the TransIP nameservers by default. Edit the nameservers if you wish to use different nameservers for your domain name.
You can always choose to edit your default domain settings. This way, you can configure the default DNS, nameservers and WHOIS information used for new domain registrations and transfers.
Click 'Order' if you agree with the Terms of Service and are ready to register your domain name.
We will then start registering your domain name. After a short period the domain name will become active in the tab 'Domains & Hosting' of your control panel. Select your domain name on the left hand side to manage your domain name (don't check the box).
---

In this article we explained how to register a domain name at TransIP. If you've ordered a web hosting package with the domain registration, you can create your own web site using the article 'Starting my own web site'.
You are also be able to create email addresses with our web hosting packages. Use the article 'Creating a new email address' for a step by step guide on this topic.
If you have any questions regarding this article, please contact our support team. You can reach them using the 'Contact us' button below or via the 'Contact' button inside your control panel.
If you wish to discuss this article with other users, feel free to leave a comment below.