Two-factor authentication adds another level of security to your TransIP account. Besides the usual credentials to log in to your control panel, two-factor authentication requires you to add another unique verification code in order to log in.
This article shows you how to enable two-factor authentication for your TransIP account.
---

Step 1
In order to use two-factor authentication, you will need to download the Google Authenticator app for iPhone or Android.
---

Step 2
Log on to your control panel and click on your username in the top right corner. Next, click on 'My account' followed by 'Security'.
Turn on two-factor authentication by setting the slider to 'On', after which a QR code will appear.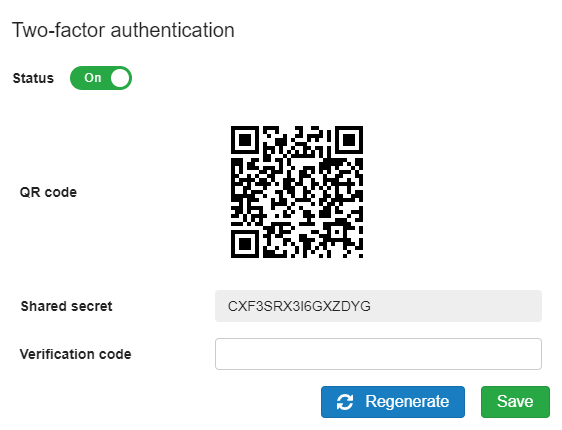 ---

Step 3
Open the Google Authenticator app on your device. Depending on your app version, choose 'Add account' or 'Configure account'. 
Next, choose 'Scan barcode'. The app will then open the camera of your device to scan the two-factor authentication barcode.
---

Step 4
Scan the QR code in the 'Security' tab of your control panel. When the QR code is succesfully registered, Google Authenticator will add an account with the name 'TransIP (account name)'. 
Above this account you will see a verification code. Enter this code on the 'Security' tab of your control panel and hit 'Save'.
The next time you will log in to your control panel, you will also need to enter a verification code. This code can be found next to the TransIP account you set up earlier in the Google Authenticator app
---
Take note: The verification keys in the Google Authenticator app change every 30 seconds. If you lost your phone, deleted the app or lost access to your account for some other reason, please contact our support team via support@transip.eu. They can help you with restoring two-factor authentication on your account.
Tips for using two-factor authentication

You can generate new two-factor authentication keys to set up a new account in Google Authenticator. Go to the 'Security' tab and click on 'Regenerate' to create a new QR code and verification code.
 
Be cautious with sharing the two-factor authentication key with others. It can be useful to provide other users with this key, but if it gets lost or shared without your permission, the security of your account may become compromised.
---

In this article we showed you how to enable two-factor authentication for your account with TransIP. 
If you have any questions regarding this article, do not hesitate to contact our support team. You can reach them using the 'Contact us' button at the bottom of this page and via the 'Contact' tab in your control panel.
If you want to discuss this article with other users, feel free to leave a message below.