With Big Storage you have the option to add an extra disk to your VPS with a lot of storage capacity. When attached to your VPS, this can be very useful for the storage of data such as mediafiles or backups. The need to detach your disk could arise for when example you want to attach the disk to another VPS or want to cancel the disk for whatever reason.
Detaching in the control panel: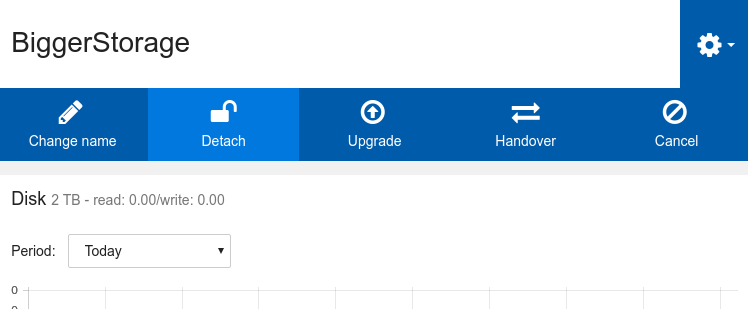 Go to 'BladeVPS' in the control panel and select the VPS which has the Big Storage disk attached.
Select 'Storage settings' the open the overview of your Big Storages.
Now select the cogwheel (Advanced) in the top right corner to open the options.
Select 'Detach' to remove the Big Storage from your VPS. Press 'Ok' to proceed when the popup appears.
The Big Storage is now detached from your VPS and can be attached to a different VPS.
If you have any references to this disk in your OS (for example as a backup target or as a default mount), you will need to remove these to prevent issues. Below you can find more information for removing a rule in /etc/fstab for mounting your Big Storage.

Detaching in CentOS / Debian / Ubuntu / FreeBSD:


Log into your VPS via 'the command line' (by using SSH or the console in the control panel) as a root- or sudo-user.
Open /etc/fstab with your favorite file editor (nano / vim / ee / emacs).
Find the rule which refers to your Big Storage disk (for example:

/dev/vdb1 /mnt/bigstorage xfs defaults 0 0

) and remove this.
Save these changes and when restarting your VPS you will not have any issues with disks that are no longer reachable.