When transferring a domain, there is downtime normally: this is because your DNS settings are not immediately live and are not always automatically copied after a transfer. For example, your domain would be reachable again after the DNS change has been processed.
To prevent this, you can enter a wrong transfer code during the transfer of a domain. Your transfer is set in motion and you can set up the DNS of your domain in advance. Once it has been processed (within a maximum of 24 hours), enter the correct transfer code in your control panel and the transfer will be completed immediately. You will not lose time on the DNS propagation. We have explained this process in more detail below.
Be sure you finish the steps below within a week.
This article assumes that you do not purchase a web hosting package. For moving website without downtime, see this article.
Step 1
Go to our homepage and enter your domain name on our domain checker. Then click 'Check'.

---
Step 2
Next to your domain name, you will see the price for the transfer and the option to transfer the domain. Click 'Transfer'.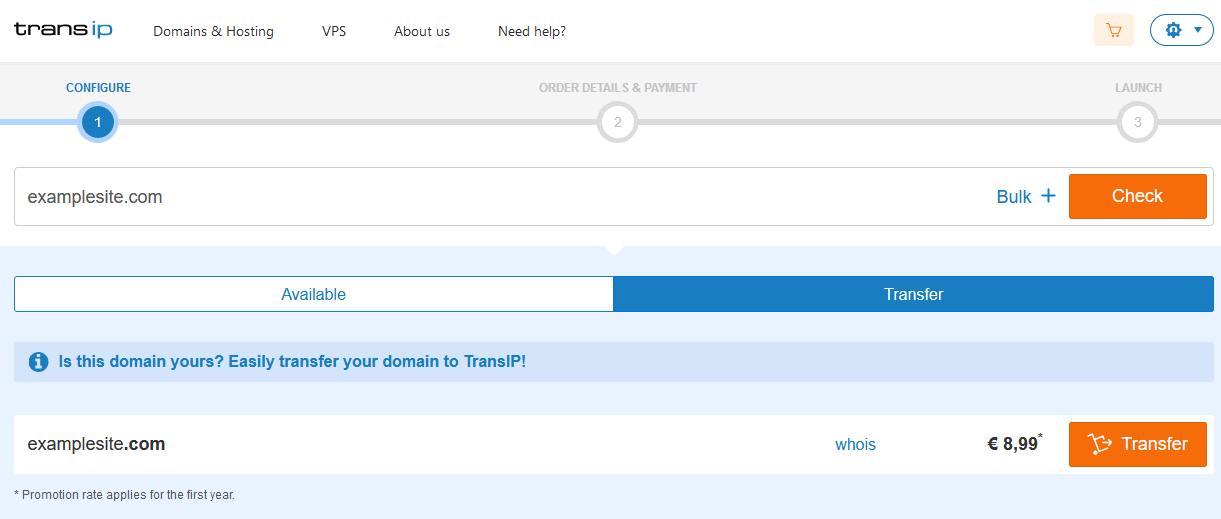 ---
Step 3
Now click 'Continue'.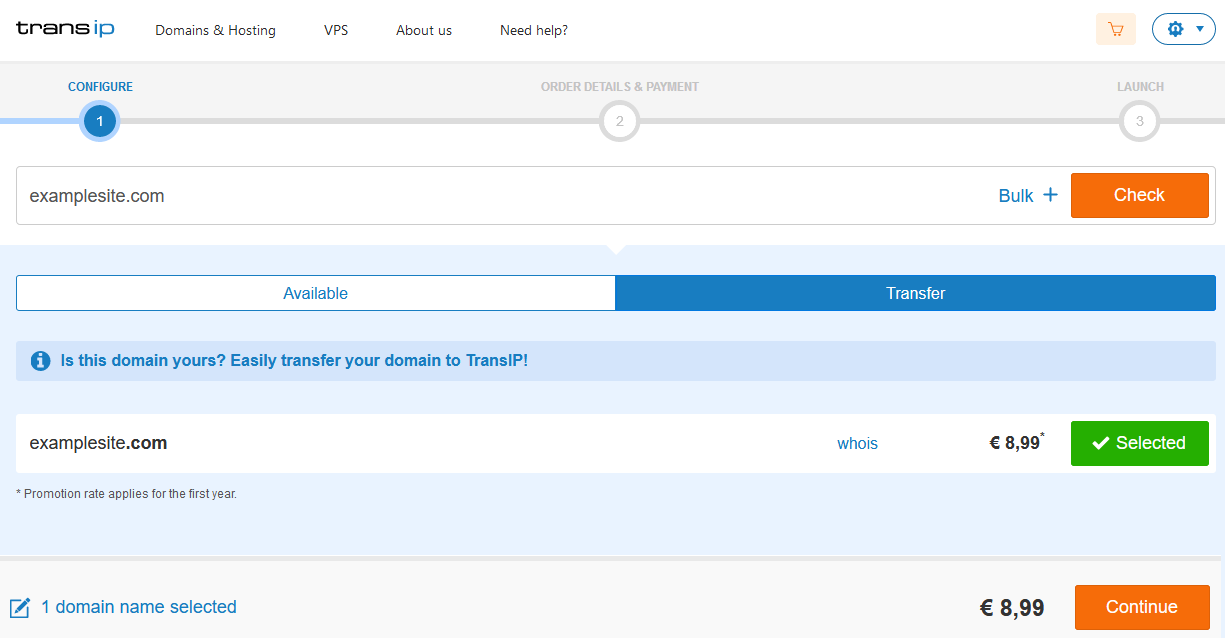 ---
Step 4
Now you will be asked to enter a transfer code. Because you want to correct the DNS of your domain first, enter an incorrect transfer code here.
Please note, depending on the domain extension, the transfer procedure may differ. See this article for more information about the transfer procedure of your domain name.
Once you have entered the erroneous transfer code, click 'Continue'.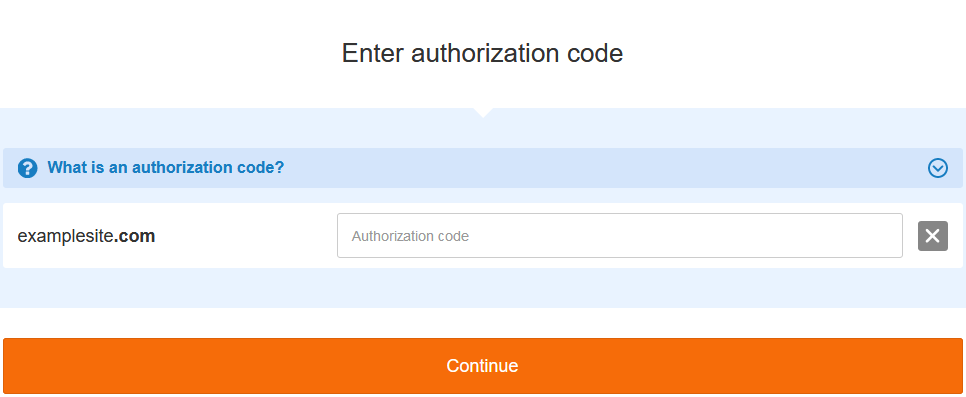 ---
Step 5
You are given the option to purchase web hosting for the domain. Click 'Continue without package' if you do not want to purchase a web hosting package.
By clicking 'Choose', you purchase the most used package of Webhosting L to the domain. If you want to use a different package, click 'View all web hosting options' and select your desired package.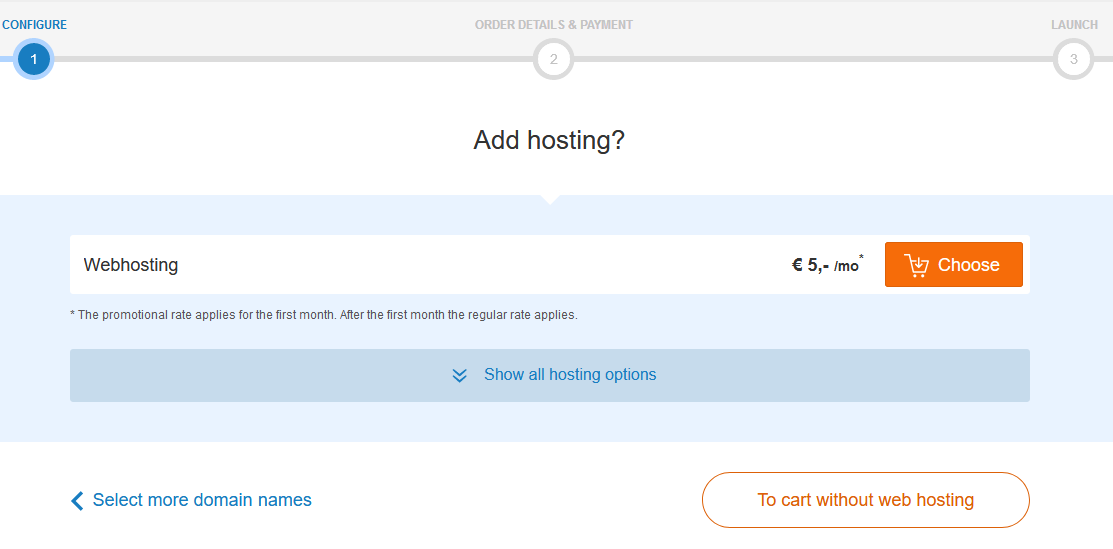 ---
Step 6
You will now see an overview of your chosen products and the set payment method. Click the pencil to change the payment method of your account. Then click 'Order checkout'.
Your order will now be settled, and confirmation of your order will be displayed. Now click 'To my control panel'. After completing the order, it may take a short time before it is delivered.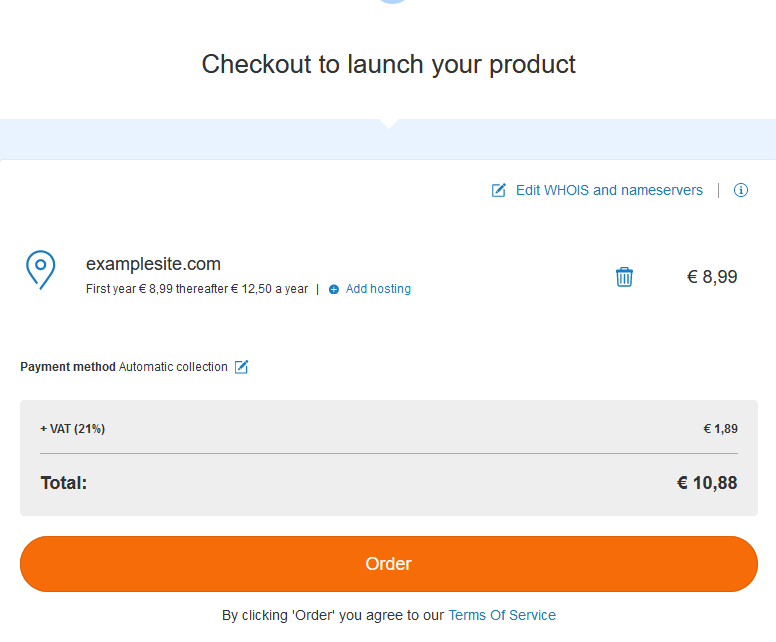 ---
Step 7
Now go to 'Domain & Hosting' in the control panel and click the domain on the left (not checked). You will then see that the transfer of your domain name has been requested but you will not yet see an option to change the transfer code. That option will appear later (see step 8).
Now adjust the DNS of your domain as desired. More information about DNS and how to adjust it can be found in this article.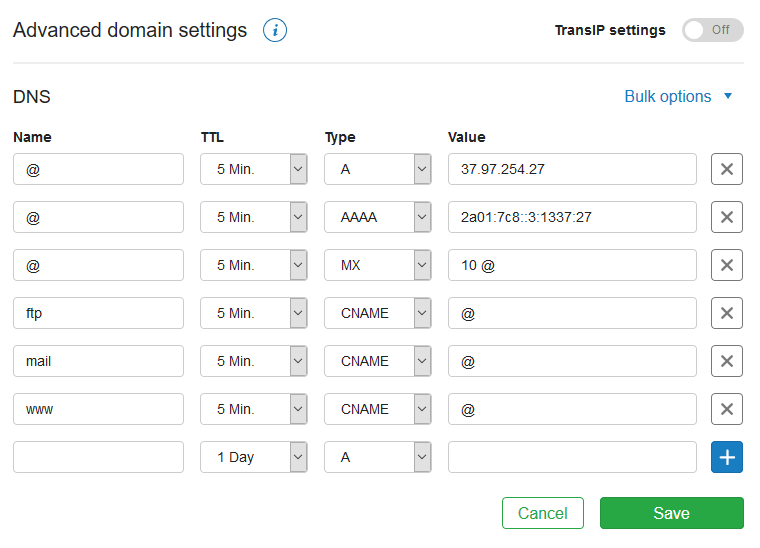 ---
It can take up to 24 hours for DNS changes to be processed. Return to the domain in your control panel 24 hours after adjusting your DNS data.
Meanwhile, you should see that the transfer is not successful and that you can try a different transfer code. Click 'Retry with another authorization code'.

Take note that the message displayed in the image above can differ based on the domain extension you wish to transfer.
---
Step 9
Enter the correct transfer code and click 'Re-submit' to complete your transfer.

---
Should you have any questions left regarding this article, do not hesitate to contact our support department. You can reach them via the 'Contact Us' button at the bottom of this page.
If you want to discuss this article with other users, please leave a message under 'Comments'.