All our BladeVPS services come with automatically made "backups" of your data. These back-ups are created every 4 to 6 hours with a maximum retention of 36 to 54 hours (you have 9 different back-ups available). When you accidentally remove an important file or there is some other reason you could use a backup, you can restore a backup via the control panel (BladeVPS > select your BladeVPS > Manage > Back-ups > Restore).
---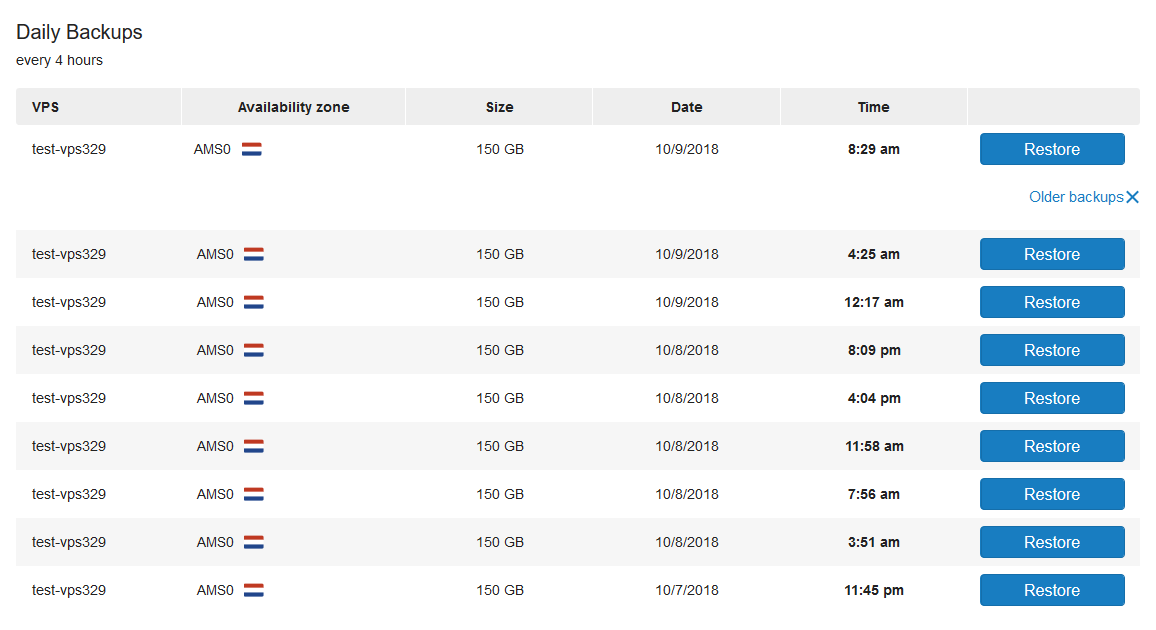 What is the difference between a snapshot and a backup?
Basically both a backup as a snapshot are a 'ZFS Snapshot' (the system / technology we use for creating snapshots). The main difference is however that the 'back-ups' are fully automatic and are being made every 4 to 6 hours, but get removed after a certain period of time. These backups are very handy to use on a short term when something goes wrong on the VPS you didn't count on. If you however when to have a greater retention, or you want a planned backup (because you are running an update or installing a new service on your VPS) then a snapshot is the better choice. Next to that, snapshots can be installed on another VPS while the backups can only be restored on the original VPS.
---
Should you have any questions left regarding this article, do not hesitate to contact our support department. You can reach them via the 'Contact Us' button at the bottom of this page.
If you want to discuss this article with other users, please leave a message under 'Comments'.