When using our web hosting services, you have the option to restore backups of your website free of charge. We automatically save back-ups up to 10 days in the past. You can restore these backups with a click of a button.
You have access to 30 backups in total and are offered in the following retention periods:
1 backup an hour for the first 8 hours
1 backup per 4 hours for the next 40 hours
1 backup a day for the next 8 days.
We save backups of your website files and database(s). However, stored procedures and custom database functions in phpMyAdmin are not saved.
---
We also do not save email backups. Due to technical limitations, we can only manually restore email backups by request (if available). If you wish to retrieve an email backup, please contact our support team for more information.
The automatic backups of your web hosting package can be found inside your control panel. Visit the tab 'Domains & Hosting' and select your domain name on the left hand side (don't tick the box).
Click on the cog wheel next to 'Your website' and select 'Website backups'.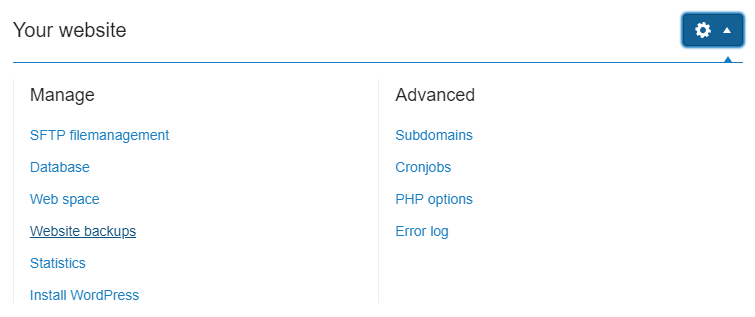 You will now see an overview of your website backups. Click 'Older backups' to view all available backups. Click on 'Restore' to restore a backup. It may take a few minutes before the backup is completely restored.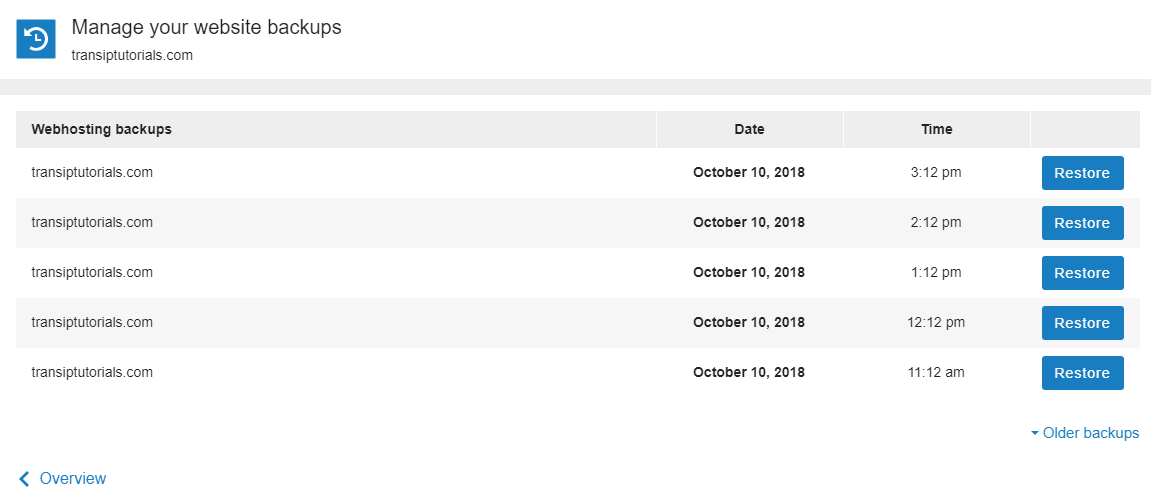 Take note: In order to restore a backup, sufficient web space is required. If the control panel tells you insufficient web space is available, try to scale down the web space of your email addresses or databases and try again.
If this doesn't create enough web space to restore the backup, consider upgrading your web hosting package.
---

In this article we talked about restoring automatically created backups on our web hosting packages.
If you have any questions regarding this article, please contact our support team. You can reach them using the 'Contact us' button below or via the 'Contact' button inside your control panel.
If you wish to discuss this article with other users, feel free to leave a comment below.