By locking your VPS you can protect it against actions that might have (temporary) unwanted consequences. This does not include actions executed from within the OS (e.g. via SSH) The following actions are blocked while your VPS is locked:
Restart
Shutdown
Re-installing
Upgrading
Using the console
Adding, changing and removing a VPS from a private network
Removing a private network
Creating, removing and restoring snapshots
Restoring an automatic backup
Cancelling your VPS
Handing the VPS over to another account
Ordering and cancelling add-ons
Changing or setting TCP monitors
Changing or setting reverse DNS / PTR-records for your BladeVPS
---
Switching the VPS lock on or off
The VPS lock can be switched on or off from within your control panel. Click the name of your VPS > 'Manage' and then switch the VPS lock on or off as desired in the bottom right of the 'Manage' window.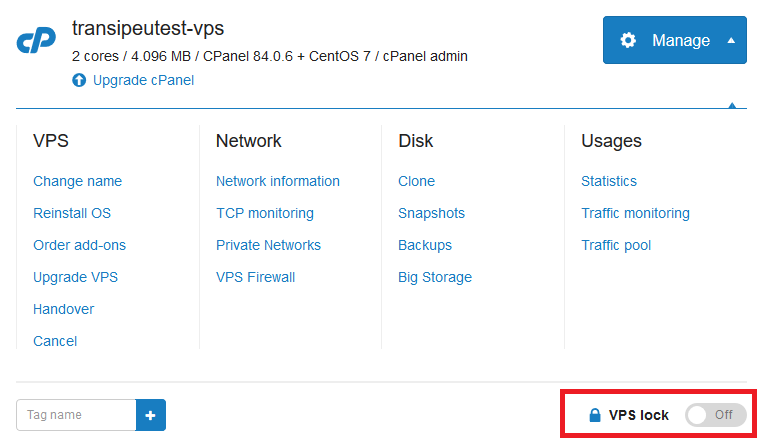 ---
Should you have any questions left regarding this article, do not hesitate to contact our support department. You can reach them via the 'Contact Us' button at the bottom of this page.
If you want to discuss this article with other users, please leave a message under 'Comments'.